I love my dog. And if you're anything like me, you want your pet to be just as  healthy as you are. With over 20% of the U.S. cat and dog population dealing with an obesity epidemic of their own, why don't we get fit together? We don't want them being like this out-of-breath kitty below!
Our 30-minute petercise circuit workout ensures both you and your furry friend get in a perfect sweat session. Now let's take note from this duo…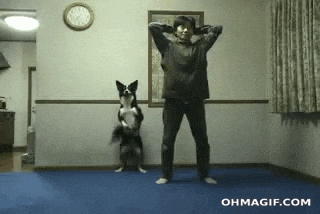 Furry Fitness Pyramid Workout
Equipment needed: Your pet(s)
Rules: You must treat your pet(s) with the upmost care and protection.
Bonus challenge: Beat a world record by doing more than 30 pet presses in 30 seconds. Eliot Glazer (below) bench pressed his dog, Atticus, 30 times in 30 seconds.
What's your favorite way to stay active with your pet?
photo credit: Runs With Scissors

Comments