February is American Heart Month and while we celebrate those we love this month, we should also pay attention to our favorite ticker!
According to the CDC, cardiovascular disease (CVD)—including heart disease, stroke, and high blood pressure—is the number 1 killer of women and men in the United States. If you merely add physical activity and healthier eating to your current routine, you'll lower your risk greatly! The following 22 recipes all contain heart-healthy ingredients that'll help prevent CVD and other bad stuff!
Top Heart-Healthy Foods
Whole Grains (Oatmeal)
Fish (Salmon, Tuna)
Fresh Vegetables and Fruits (Asparagus, Blueberries)
Nuts (Almonds, Walnuts)
Legumes (Beans)
Chocolate (Dark Chocolate – 70% or more)
Learn more about heart-healthy foods.
1. Roasted Salmon with Burgundy-Balsamic Glaze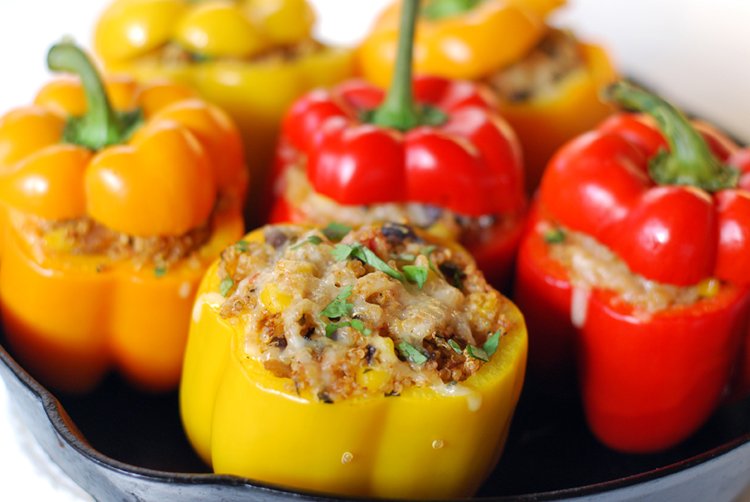 2. Southwestern Quinoa Stuffed Peppers
3. Black Bean and Sweet Potato Bake
4. Heart Smart Bean and Barley Vegetable Soup
6. Spinach Strawberry Champagne Salad
7. Spring Recipe: Asparagus Farro Risotto
8. Vegetarian Whole Wheat Pasta
10. Roasted Sweet Potato with Citrus
11. Grilled Salmon and Pineapple Sliders
12. Sunshine Salad With Orange Marmalade Vinaigrette
14. Healthy Red Velvet Fudge Protein Bars
15. Chipotle-Orange Grilled Chicken
16. Jessica Alba's Chicken Enchiladas
19. Pineapple Chicken Skillet with Broccoli
20. Mango Strawberry Yogurt Parfaits
21. Seared Scallops with Crispy Leeks
22. Roasted Carrot Hummus Recipe
Share with us!
What's your favorite heart-healthy recipe?
Photo credit: .craig

Comments